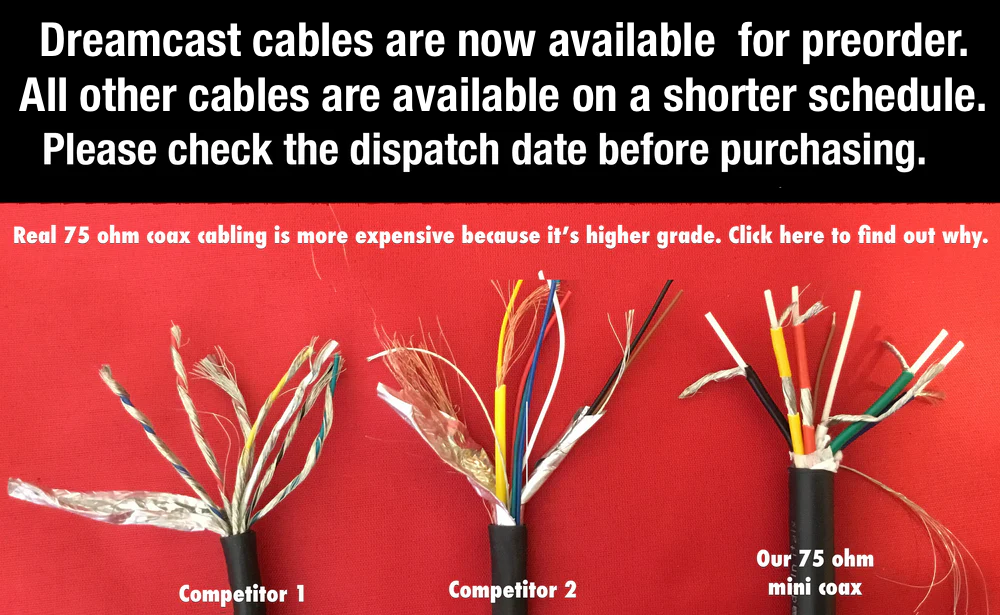 Custom Cables - Items tagged as "Collection"
Warning: Custom cables cannot be returned for straight exchanges or refunds, however we will still offer our regular warrantee period of 2 years free repair service if anything goes wrong. These products are just missing the usual "no quibble" return policy we offer on regular products for situations like "whoops - bought wrong item" or "changed my mind about my setup." This is because you're buying a very specific cable.
All custom cables use attenuated sync unless you request otherwise. If you need TTL sync for your setup or you already know that your mod has attenuation built in, please let us know that you do not need a resistor.
We cannot easily show the length of individual options in the product builder. The picture is just there to give you a basic idea of what you will get. Some options might look a bit weird - we can't make every option gel perfectly with every config as there are thousands of possibilities.
For audio hookups, we can change the length up to the full length of your main cable at no extra charge. Please specify how long you need the hookup to be when checking out!
Disclaimer about colors:
The main body of the cable will always be black, made from Italian 75 ohm coax stock.
Scart and console connectors are black plastic, hoods for console/15 pin may be 3D printed.
Colour of audio hookups may vary from picture. Default is white+black for RCAs/TS which will always be the case for complete breakouts like 5 RCAs or 4 BNCs, but for some options like a simple pigtail from a console connector this may change to red+white (for RCAs), completely black for 3.5mm connectors and if you want longer lengths,  it will change to a black figure 8 stereo cable (made from Italian professional stereo audio wire.)